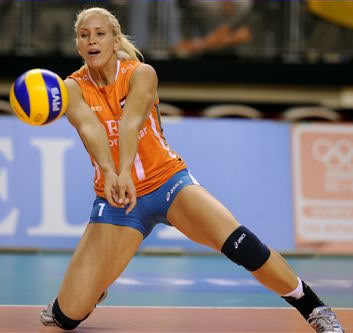 A WORD FROM: KIM STAELENS
As a top sportsman or woman you spend many hours every day in the sports hall. The most important aspect by far for an indoor sportsperson is the floor, as that ultimately determines your performance. A lower quality floor can distract a sportsman or woman or cause pain and this can be at the expense of the result or the availability of a player.
The floor must provide a good grip. If you slide you lose speed because turning and stopping takes more time than on a floor with a good grip. It is also dangerous, because it is easier to pick up an injury. Too rough, however, is not good either because in volleyball if you cannot slide properly, it impedes your ability to save a difficult ball.
As a volleyball player you also have to jump frequently, so a hard floor is not pleasant. It causes knee problems or other physical complaints. In some cases a player may even end up sitting out because of a floor that causes so many problems that he/she is not able to continue playing. A hard floor is also not very good when you have to dive. Sometimes you could end up being seriously injured.
It is therefore very important that a floor is maintained by professional companies. They have the most knowledge and they ensure that the venue has an ideal sports floor!
TERUG