Renovation of wooden sports floors
Veiligesportvloer.nl is also your partner for renovations and inspections of all wooden sports floors. The sports floors we encounter often have many years of build-up of Bruwax or other types of wax. This gives a wooden sports floor a reflective and greasy appearance. Often these floors also become very slippery. An inspection and assessment of the floor can give you more insight into this aspect. Renovation is a costly but sustainable investment, which is a major advantage for a wooden sports floor!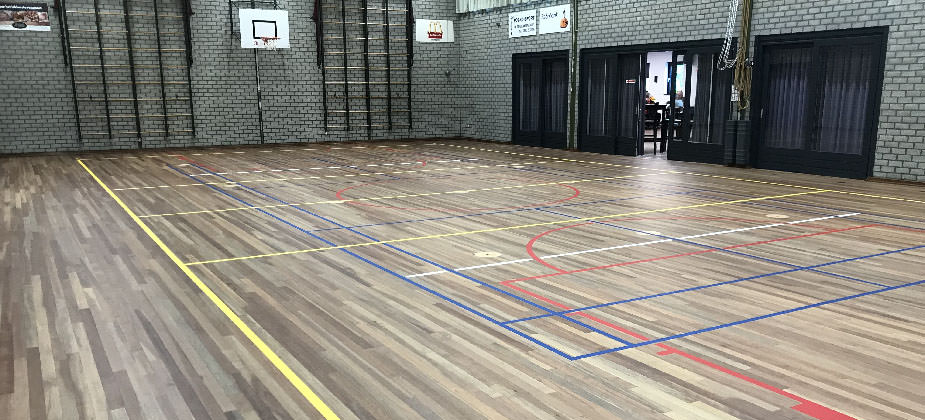 Our specialists first carry out a thorough inspection of your sports floor. Their findings are then presented in a clear report. Further action can be taken on the basis of these findings. A few things to determine in advance when having the floor inspected:

Are you experiencing problems or is the floor too slippery/declared no longer suitable?
Is the supporting structure still intact?
Is there still extreme warping taking place?
Is there any old or known visible or hidden damage?
Are the lines still current? Guidelines on line markings change over the years.
Do you want to have the same lines back in place? Do you still need all the fields? Consult with the users beforehand!
Which coating is always applied on the floor? Lacquer, oil, wax or hard wax?
Which coating do you ultimately want? For example matt or extra matt lacquer.
Are the cavity floor service boxes still in order?
Which skirting boards do you prefer or do you want to keep the current skirting boards intact?
How should you approach maintenance after the floor has been delivered as new?

For all these questions and more you can schedule an appointment with us or have an inspection carried out.
We would like to draw your attention to the fact that the time frames for renovating a wooden sports floor are very limited. Usually this is done during holiday periods.